Gobi Partners Joins B20-G20's One Global Women Empowerment  Platform to Accelerate Women Entrepreneurs
December 12, 2022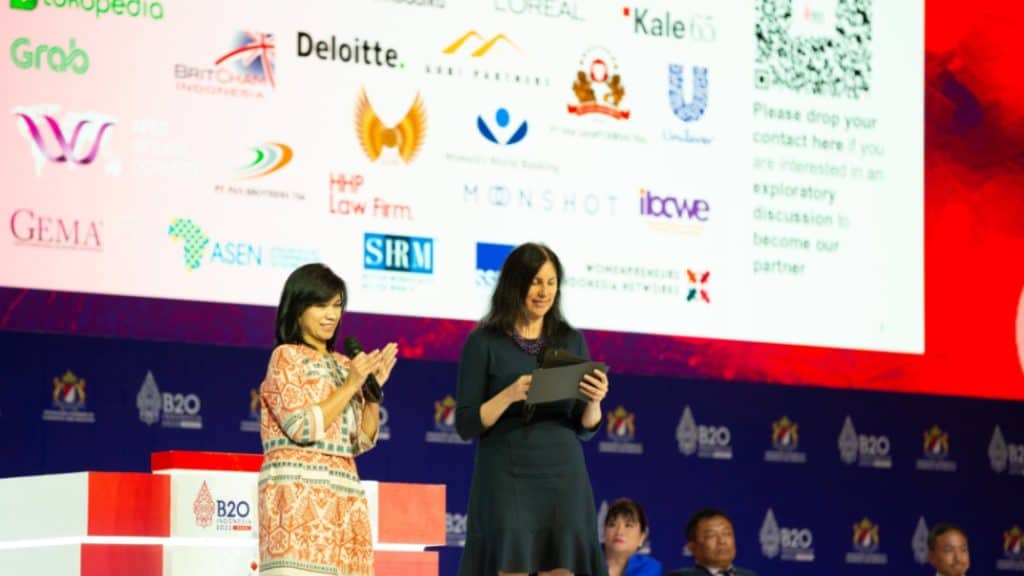 KUALA LUMPUR, 12 Dec 2022: Leading pan-Asian venture capital (VC) firm, Gobi Partners is proud to announce that it has become one of the first VC signatories to support the One Global Women Empowerment (OGWE) platform launched by the Business 20's (B20) Women in Business Action Council (WIBAC).
The B20 Summit Indonesia 2022 was successfully held on 13-14 November, with over 3,000 business and government leaders from 69 countries present at the two-day Summit, of which four legacy programs were initiated – OGWE being one of the four.
Referring to the data from B20 WiBAC, equal gender participation in the global economy can increase USD 28 trillion in global Gross Domestic Product (GDP) growth by 2025. However, many gaps in the equality of women's participation in the business world must be bridged to realize this potential. In particular, the lack of access, opportunity, and representation of women in strategic positions in the business world.
"Through OGWE, B20 WiBAC seeks to encourage more women to lead, participate, and have access to better business and economic opportunities, increase entrepreneurial skills, and improve digital skills. We invite all elements from business actors and all other stakeholders to collaborate in supporting domestic economic growth and on a global scale through women empowerment," said Ira Noviarti as Chair of B20 Women in Business Council who is also the President Director of PT Unilever Indonesia Tbk.
As one of the largest VC firms in Southeast Asia as well its 20 years of experience in investing in over 320 startups (with multiple Unicorns under its belt), Gobi is well positioned to provide programmes to increase women's entrepreneurial and digital skills, build access to networks for better business and economic opportunities, and encourage more women in leadership roles.
Gobi Co-founder and Chairman, Thomas G. Tsao said: "Our commitment to supporting diversity and inclusivity has made investing in women founders a key pillar in Gobi's investment strategy. This commitment was first underlined when we joined The Billion Dollar Fund for Women pledge in 2018 and became a signatory to the Women's Empowerment Principles by UN Women in 2021 and now, to the OGWE, in 2022. For Gobi, the gender lens opportunity is clear, and we remain committed to our support within this area."
Gobi Diversity Lead, JJ Erpaiboon added: "Following our close work with UN Women since 2020, we are excited to join another global initiative to move the needle of the 8.9% of funding going to women-led startups in the region. We know that it takes a lot more than funding to build the ecosystem, therefore public-private partnerships and collaborations are key for us to be able to carry out meaningful programmes geared towards both the investor and startup communities across Asia."
To support OGWE's mission and vision for their platform, Gobi's contribution to the platform will include but is not limited to the following prioritised initiatives:
Provide lived experience case studies: Gobi will tap into its network of successful women entrepreneurs and current women investees to provide case studies, as well as help develop best practices that advance both women in the workforce and women in business.
Provide mentorship and guidance to empower women entrepreneurs: Gobi will organise mentorship sessions targeting and specialising in areas such as business model hacking, marketing strategy, financial management, building digital capabilities and digitalization strategy, and sustainability management.
Host knowledge-sharing and upskilling webinars and workshops: Gobi will provide access to cross-border information, studies, resources, and best practices through webinars and workshops.
In its ongoing work to help influence the ecosystem, Gobi had co-founded the 2021 Asia Gender Smart Investing Forum, along with UN Women which garnered participation from over 400 mid to senior-level executives; hosted the largest annual gender-lens pitch competition with 'She Loves Tech' (Gobi's fourth year as an organising partner); and worked with the W20 Summit in Indonesia for the event "Business Mentorship for Women-owned Micro, Small and Medium Enterprises" to bring mentors to help women-led micro, small and medium-sized enterprises on their path to digitalization.
Further information can be found in Gobi's 2021 Sustainability Report.
ENDS
---
About Gobi Partners
Gobi Partners is the most interconnected Pan-Asian venture capital firm with US$1.5 billion in assets under management (AUM) across North Asia, South Asia, and ASEAN. Headquartered in Kuala Lumpur and Hong Kong, the firm supports entrepreneurs from the early to growth stages and focuses on emerging and underserved markets.
Founded in 2002, Gobi has raised 15 funds to date, invested in over 320 startups and nurtured 10 unicorns. Gobi has grown to 15 locations across key markets in Bangkok, Beijing, Cairo, Guangzhou, Ho Chi Minh City, Hong Kong, Jakarta, Karachi, Kuala Lumpur, Lahore, Manila, Shanghai, Shenzhen, Singapore and Surabaya.
As a Participant of the United Nations Global Compact, Gobi Partners is committed to aligning strategies and operations with universal human rights, labour, environment and anti-corruption principles to ensure long-term value creation and sustainability across our portfolio. The firm launched its inaugural Sustainability Report in June 2022.
For more information about Gobi Partners, please visit https://gobi.vc