The Investment Case for Diversity in Tech: JJ Erpaiboon
December 1, 2022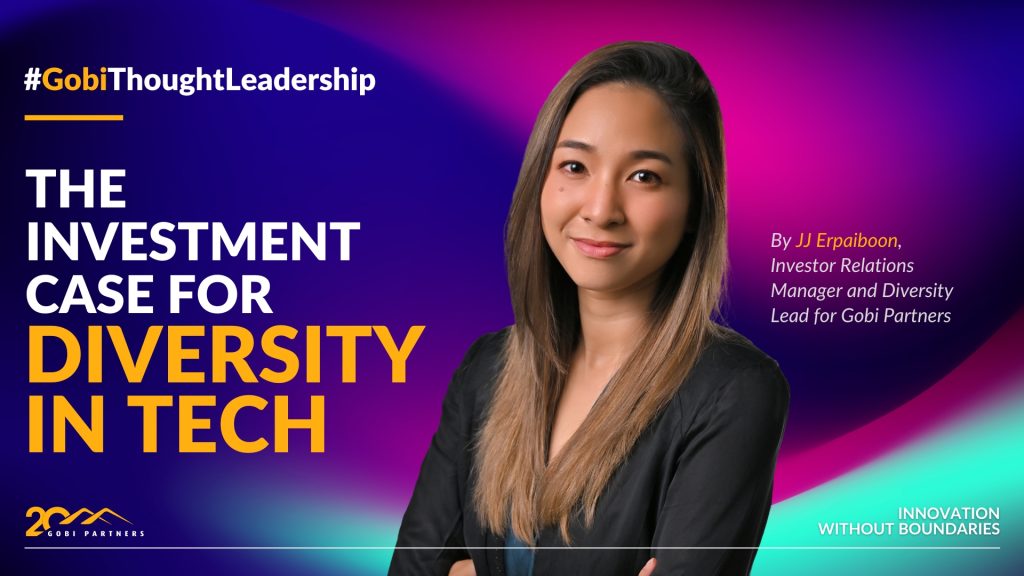 Every year on November 19, we often see corporations and organisations celebrating and commemorating the achievements of women entrepreneurs in conjunction with Women's Entrepreneurship Day. We believe women entrepreneurs should not only be celebrated on this particular day — but rather celebrated every day like any entrepreneur.
Unfortunately, the reality is that a mere 2% of billions of dollars invested in startups globally every year are being allocated to female founders, and that percentage has been stagnant in the past decade. In 2021, while venture funding was breaking records on a quarterly basis in emerging markets, funding for female founders did not witness commensurate growth, with only 8.9% of the total raised by female-led private companies in Southeast Asia (excluding Grab).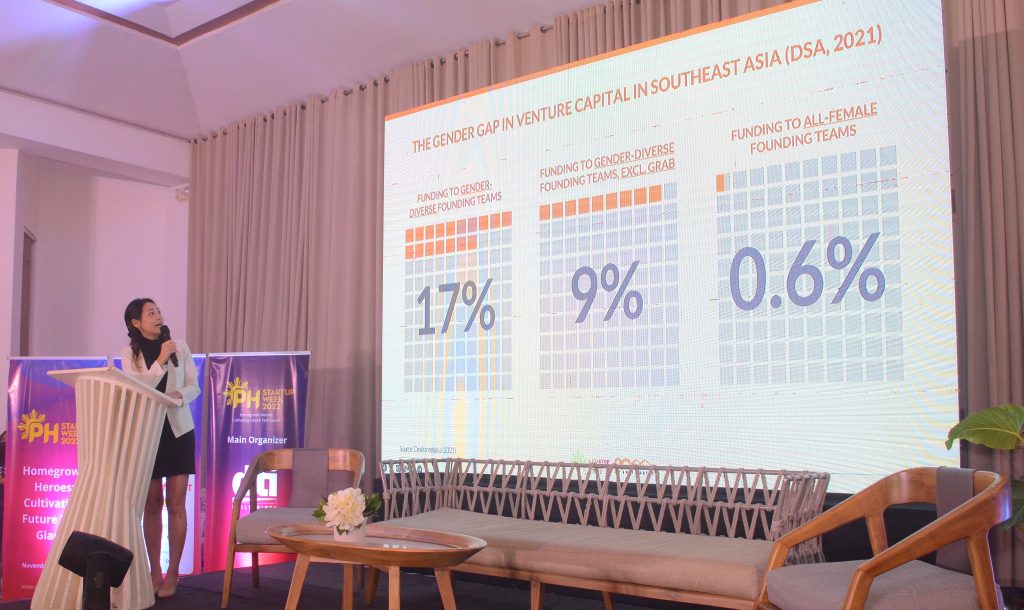 It is clear that the system is broken.
While programs and policies are absolutely crucial in advancing gender equality in the workplace, funding female founders and supporting their journey to the next milestone is arguably one of the most impactful actions to move the needle. With that, more and more venture capital (VC) firms and angel investors are wising up to the gender-lens opportunity in improving women's economic empowerment, recognizing the potential to add US$4.5 trillion to Asia Pacific's GDP by 2025 (12% increase over business-as-usual GDP trajectory).
They say "put your money where your mouth is" and Gobi has done just that.
A Compelling Case Study for Gender-Smart Investments
Back in 2018, Gobi pledged to the global movement The Billion Dollar Fund to invest US$50 million into women-led startups, of which the funds had been deployed in two years with the original target exceeded.
We analysed the data from our investments during that period, and the findings have provided a compelling case study:
– While gender-diverse teams make up 43% of our regional assets under management (AUM), they make up 59% of our holding value, representing a significant uplift in value from a portfolio composition standpoint.
– Gender-diverse teams that we've backed in this region have outperformed their all-male counterparts, with 94% higher average Multiple on Invested Capital (MOIC) than all-male founding teams and they are two times more likely to raise up-rounds than all-male founding teams.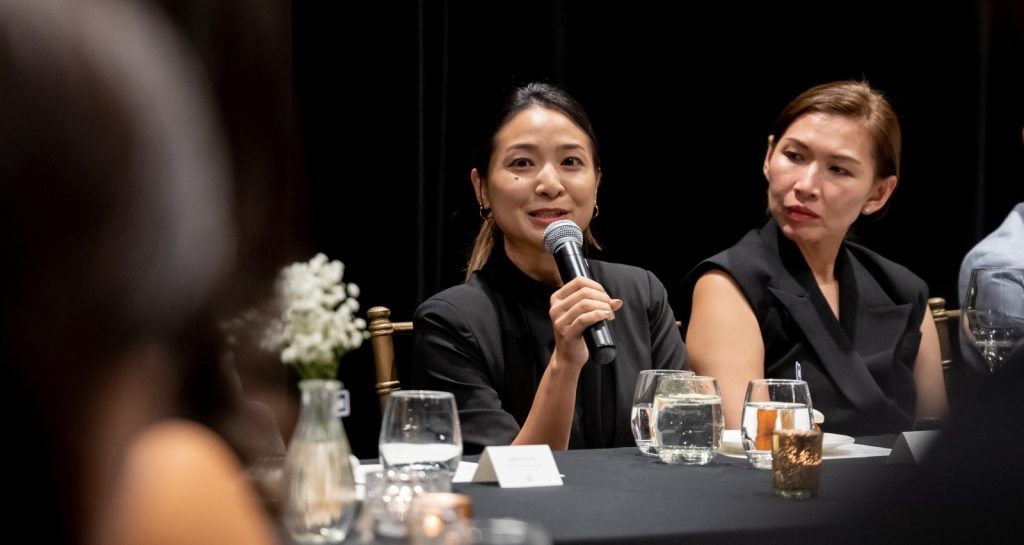 Results are clear that when it comes to funding – gender-diverse teams have proven to produce tangible returns (read more in Gobi's 2021 Sustainability Report).
Southeast Asia is Primed with Exceptional Female Founders
Recently, Gobi celebrated our 20-year anniversary in Singapore, where we had the pleasure of convening some of our female founders from across the region (pictured below): Olive Tai of Synagie (Singapore), Vanessa Hendriadi Li of GoWork (Indonesia), and Crystal Pang of Pickupp (Hong Kong). We shared stories on our recent trips post-covid, celebrating recent milestones, getting candid about work-life balance and the challenging fundraising climate, and of course how amazing it is to finally meet each other face-to-face and continue to support one another in their entrepreneurial journeys.

Last year, we were proud to see 10 Gobi-backed women-led startups made Southeast Asia's Top 50 Rising Women in Tech list. Of that list, here are some of the leaders paving the way for women in tech and setting the bar for aspiring entrepreneurs in Southeast Asia.
Winnie Chua, the Chief Product Officer of insurance technology company PolicyStreet, is an excellent case in point. Leveraging her experience in the finance industry, she co-founded PolicyStreet in 2017 in Malaysia with two other partners as an online insurance platform to ease the process for end consumers.
Most recently, Policystreet launched a digital HR portal to simplify the insurance process for small business owners and SMEs. Last month, PolicyStreet cemented a partnership with foodpanda to launch the Gig Workers' Digital Claims Portal, enabling gig workers to enjoy their protection benefits better and ensuring a seamless claim process. It raised US$6 million in Series A funding last year.
Another founder within our portfolio is Kimberly Yao, the co-founder and CEO of CloudEats, one of the largest cloud kitchen startups in the region established back in 2019. CloudEats operates online delivering restaurants – where brands and menus are created and developed in-house – produced in the cloud kitchens that it owns and manages, and then listed on food delivery platforms in the Philippines and Vietnam.
Most recently, it is developing a hyper-scalable cloud kitchen and restaurant hybrid model, one that runs on its smart kitchen technology, as both a cloud kitchen and a brand builder. To date, the company has raised US$14 million and has served over five million dishes since its inception, with its most recent being a Series A extension round where it raised US$7 million this year.
These are only a few of a myriad of success stories that we'd like to share in supporting inclusive innovation, but also recognise that much more needs to be done to improve the 8.9% funding to female founders in Southeast Asia.
To demonstrate our continued support, Gobi has been heavily focused on programs and partnerships, beyond financing, in creating a gender lens investing ecosystem — stay tuned or feel free to reach out to learn more about what we've been doing!