2022: A Year in Review
January 21, 2023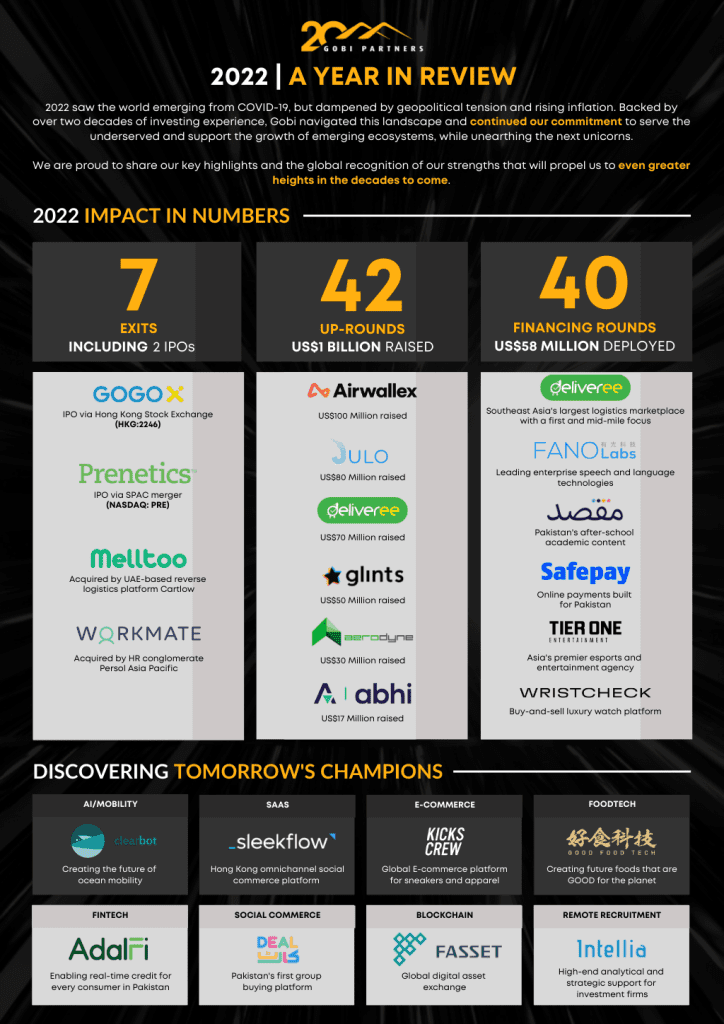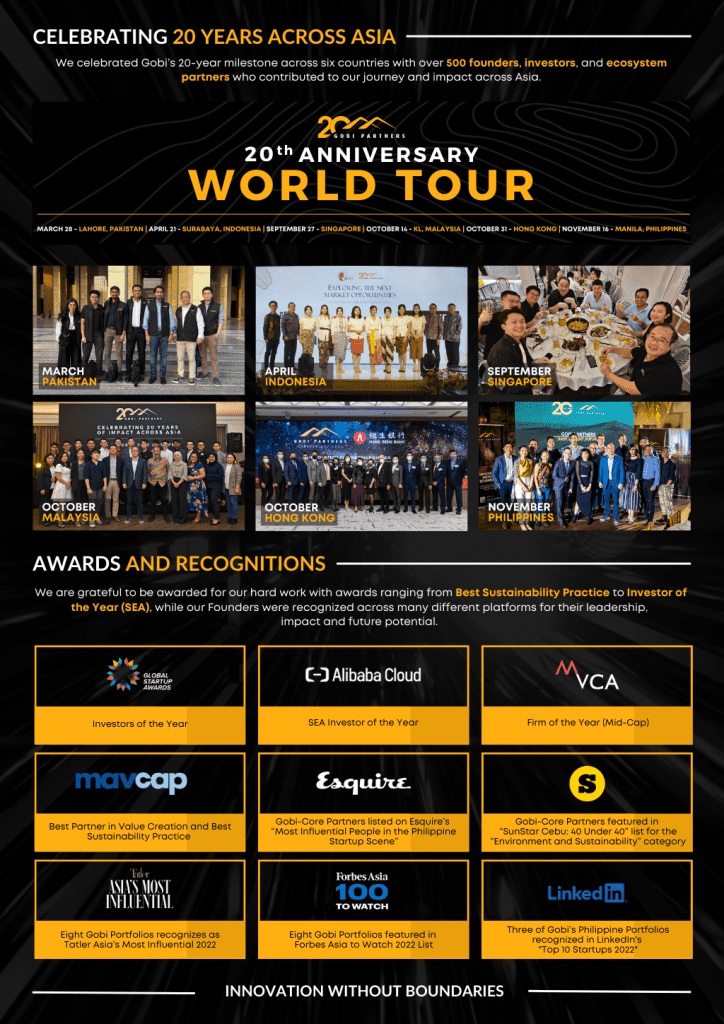 The year 2022 was a year of slow recovery, as the world shakily emerged from the shackles of Covid-19 amidst global geopolitical tensions and rising inflation. 
At Gobi Partners, leveraging over two decades of investing experience, we deftly navigated this landscape and continued our commitment to serving the underserved and supporting the growth of emerging ecosystems, while unearthing the next unicorns.
There were many key highlights in the year in which we celebrated our 20th anniversary, which will surely propel us to even greater heights in the decades to come.
During the year, we held 40 financing rounds that deployed US$58 million across Hong Kong, Southeast Asia and Pakistan for companies like Indonesia-based leading road cargo logistics platform Deliveree, Pakistan's after-school academic content provider Maqsad and Hong Kong-based luxury watch platform WristCheck, among others.
We witnessed 42 up-rounds raise US$1 billion for our portfolio companies, some of which Gobi has made follow-up investments as they scaled their business. These include US$100 million raised for Australian financial technology platform Airwallex, which was valued at US$5.5 billion, and US$80 million secured for Indonesian peer-to-peer lending platform JULO in a round led by Credit Saison, to name a few.
At the same time, reflective of a good ecosystem of growth, we saw healthy M&A activity in our portfolio through seven exits, such as Workmate being acquired by Persol Asia Pacific and Melltoo being acquired by Cartlow.
Of the number, two were initial public offerings (IPOs), namely for app-based logistics platform GOGOX – Hong Kong's first unicorn that went for IPO via the Hong Kong Stock Exchange – and leading genetics and diagnostic health testing company Prenetics, which went for IPO via a SPAC merger on NASDAQ.
During the year, we went further to discover tomorrow's champions, be it marine technology solutions provider Clearbot, Hong Kong-based software-as-a-service (SaaS) omnichannel social commerce platform Sleekflow and Pakistan digital lender Adalfi and many others.
Beyond the numbers, Gobi invested time and resources into amping up the environmental, social and governance (ESG) agenda during 2022, reflecting our sustainability drive that is aligned with our core values of supporting emerging and underserved markets.
To do so, the launch of our inaugural Sustainability Report in June 2022 played an important role. It drove us to take a hard look at the initiatives we have executed under our sustainability agenda and also provides us with a benchmark upon which further improvements we make in the future can be measured.
Another key initiative was the creation of #GobiCares in the last quarter of 2022, a brand new charity and community outreach to do our part for local communities. Thus far, #GobiCares has already been deployed twice to help Pakistan's flood relief efforts, through a US$5,000 donation and raising funds to support Doctors Without Borders (MSF) medical response in the Sindh Province.
2022 was also a time for reconnecting with our roots across the different geographical footprints we have established over the years. We held our Away Day in April to reconnect and reunite teams across multiple locations, and held six-anniversary dinners in our 20th anniversary World Tour to bring the celebration closer to over 500 founders, investors, and ecosystem partners in Pakistan, Indonesia, Singapore, Malaysia, Hong Kong and the Philippines. Our 20th-anniversary celebration was further amplified online with the 20 Years 20 Questions Series on the Gobi website.
For all our efforts in 2022, we were lauded and recognised with various awards, some of which include the Global Startup Awards 2021 Investors of the Year, the Alibaba Cloud AsiaStar 10×10 campaign's Southeast Asia Investor of the Year, and the Firm of the Year (mid-cap) award at the Malaysian Venture Capital & Private Equity Association (MVCA) Annual Dinner and Awards Night 2022.
We, at Gobi, are extremely grateful to all partners who have come along with us on our journey thus far.
With all that we have done, and all that we will continue to champion, we hope that you will continue to support us in our journey to help entrepreneurs from the early to growth stages, especially those in emerging and underserved markets.
Here's to an even better year ahead for Gobi in 2023. Cheers to another year of connecting entrepreneurial ecosystems, one emerging market at a time.
---
About Gobi Partners
Gobi Partners is the most interconnected Pan-Asian venture capital firm with US$1.5 billion in assets under management (AUM). Headquartered in Kuala Lumpur and Hong Kong, the firm supports entrepreneurs from the early to growth stages and focuses on emerging and underserved markets.
Founded in 2002, Gobi has raised 15 funds to date, invested in over 320 startups and nurtured 10 unicorns. Gobi has grown to 15 locations across key markets in Bangkok, Beijing, Cairo, Guangzhou, Ho Chi Minh City, Hong Kong, Jakarta, Karachi, Kuala Lumpur, Lahore, Manila, Shanghai, Shenzhen, Singapore and Surabaya.
As a Participant of the United Nations Global Compact, Gobi Partners is committed to aligning strategies and operations with universal principles on human rights, labour, environment and anti-corruption to ensure long-term value creation and sustainability across our portfolio. The firm launched its inaugural Sustainability Report in June 2022.