Supporting Pakistan in Its Time of Need: Taraec Hussein
November 22, 2022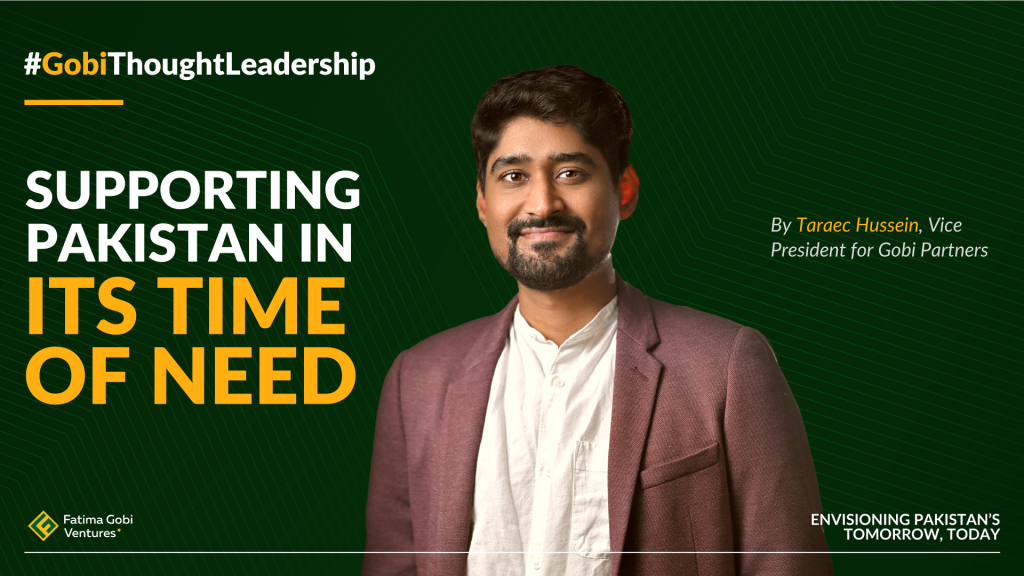 As early believers in Pakistan's massive potential, our team at Fatima Gobi Ventures (FGV) – a joint venture company established in 2019 by Gobi Partners and Fatima Group, one of Pakistan's largest conglomerates – has been privileged to witness the growth of its start-up ecosystem from ground zero.
We have since become the most active venture capital firm (VC) in Pakistan – with 22 of the country's most innovative startups invested through our oversubscribed maiden fund, Techxila Fund I.
All FGV investments are aligned with Gobi Partners' TaqwaTech investment strategy. A term coined by our co-founder Thomas G. Tsao, TaqwaTech refers to our framework to empower Muslim founders and economies as part of diversity, equity and inclusion initiatives under our environmental, social and governance (ESG) agenda.
It was pioneered to address the lack of opportunities and inclusion faced by these entrepreneurs, despite the fact that they cater to a US$2.2 trillion market of nearly two billion Muslims globally, whose digital needs are largely unmet or underserved.
This is especially significant as more than 31% of the world's population is expected to be Muslim by 2060.
Although Pakistan's start-up ecosystem had a relatively late start compared to other emerging markets, its growth has far exceeded expectations.
Given the explosive rate of technology adoption, and the rapid increase of 3G and 4G connectivity from 60 million to over 100 million, over the span of only two to three years, the country is ripe for the development of digitised businesses.
Illustrating this digital boom is the aggressive growth of our most promising Pakistani investments, such as PriceOye, Abhi, Adal Financial and Tajir.
Islamabad-based PriceOye, a leading online consumer electronics marketplace that has served 45 million unique users in the past two years, has recently secured US$7.9 million in seed funding. Recognisable names such as Tinder founder Justin Mateen and PayPal founder Peter Thiel – in his first investment into Pakistan – among its investors.
Abhi is the first FinTech company which provides Earned Wage Access (EWA), Invoice Factoring and Payroll Solutions in Pakistan. Targeting blue and white-collar workers who mostly live paycheck to paycheck, the company works with their employers to provide the flexibility to receive their earned salaries in advance or weekly, to better manage their finances.
To date, the company has empowered over 300 companies and served over 100,000 employees on its platform.
Also serving the FinTech sector is Adal Financial (AdalFi), which partners with banks and reduces their cost of loan origination via its proprietary credit scoring engine and delivers real-time credit journeys with its digital disbursement platform.
With only 2.4% of the population having access to credit from formal financial institutions, the company bridges this gap and unlocks underserved segments for its banking partners by expanding viable customer pools by 10x.
AdalFi is also working with local banks to serve SMEs in Pakistan, a segment that is also underserved from a credit perspective.
Meanwhile, business-to-business (B2B) e-commerce marketplace Tajir has raised US$17 million in its Series A round, led by Kleiner Perkins – following its graduation from Y Combinator. The company's aim is to enable easier inventory sourcing by bridging the divide between mom-and-pop stores and suppliers, remove business friction and allowing for significant time and cost-saving for the retailers it serves, besides increasing product selection and allowing for better price discovery.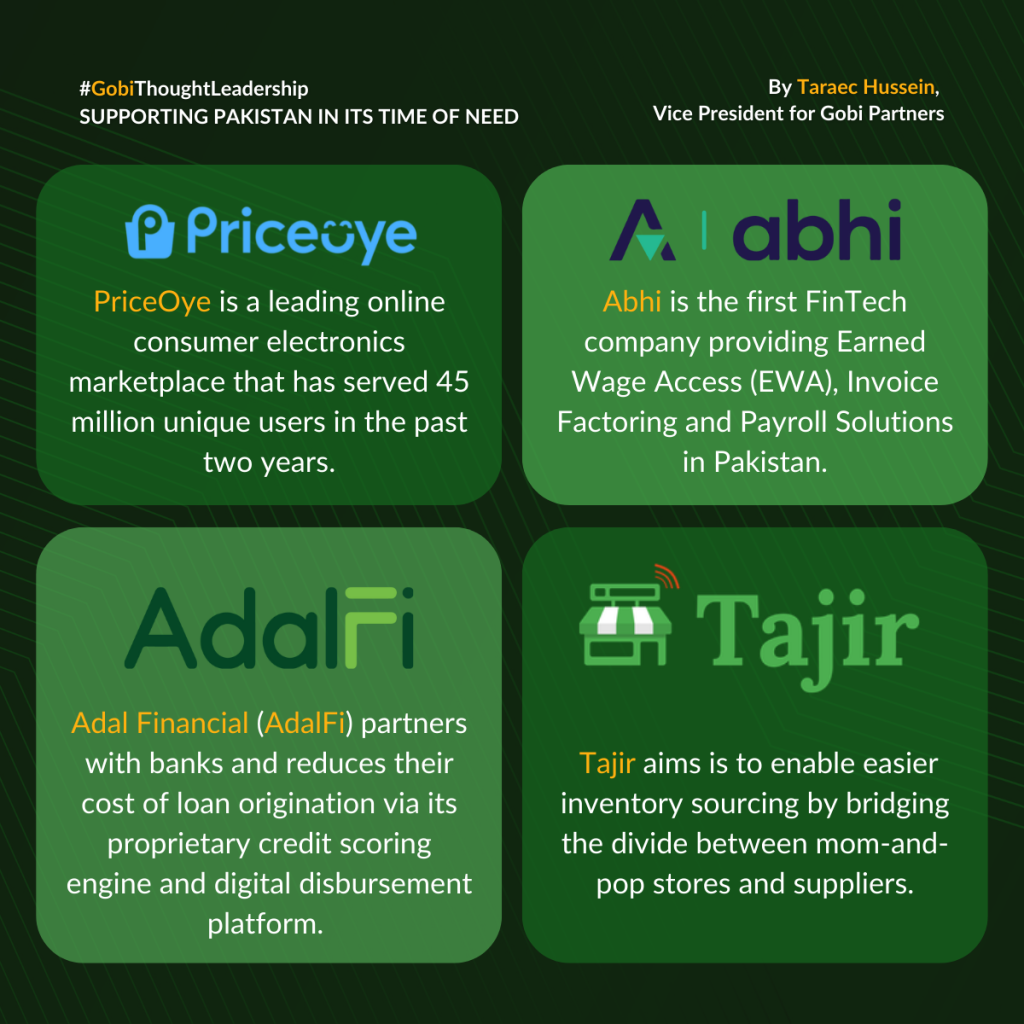 These are absolutely incredible success stories that we're proud of, but right now, we also need to help Pakistan get back on its feet by funding its flood relief efforts.
As you may have heard, the heavy monsoon rains in June this year led to devastating floods that have caused the deaths of over 1,700 people and displaced over 33 million more, thus far.
For a start, FGV has committed US$5,000 in support – the first initiative that Gobi Partners is undertaking under the #GobiCares umbrella, which is envisioned to drive our corporate social responsibility efforts, going forward.
But we can only do so much on our own. We need your help. That's why, together with Doctors Without Borders (MSF), we are taking the lead to raise funds to support Pakistan in its time of need.
These funds will go towards supporting MSF's medical response in the Sindh Province, where there is an urgent need for clean drinking water, hygiene kits and medical care to treat increasing skin infections, as well as waterborne and vector-borne diseases.
Join us to amplify the positive impact we can bring to Pakistan, and make a difference in the lives of all those affected by the natural disaster by making a donation at https://bit.ly/FGVCARES.