Gobi Partners onboards Care Concierge to the Khazanah-backed Gobi Dana Impak Ventures fund
March 29, 2023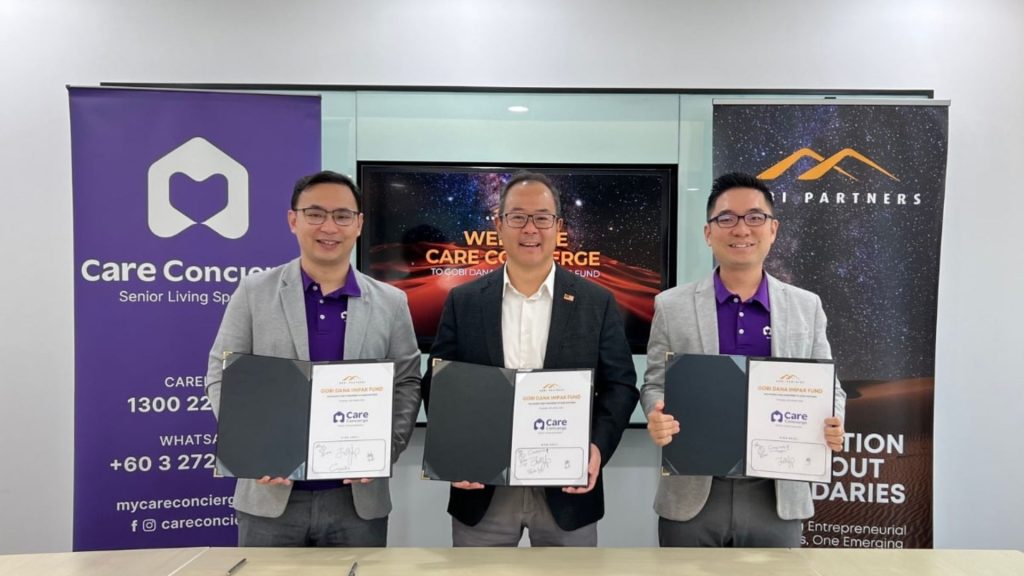 KUALA LUMPUR, 29 March 2023: Gobi Partners, the most interconnected Pan-Asian venture capital (VC) firm with US$1.5 billion (RM6.5 billion) in assets under management has onboarded its first portfolio, Care Concierge under its newly established Gobi Dana Impak Ventures (GDIV) fund.
GDIV is a part of the Future Malaysia Programme, an initiative announced on 16 March 2023 under Malaysian sovereign wealth fund, Khazanah Nasional Berhad (Khazanah)'s Dana Impak mandate that aims to support the local start-up ecosystem of entrepreneurs, start-ups, venture capital, and corporate venture programmes, through collaborations with domestic and international partners such as Gobi Partners.
Dana Impak is a US$1.3 billion (RM6 billion) allocation over five years and a key pillar under Khazanah's Advancing Malaysia strategy which seeks to invest across six themes based on issues and challenges facing the nation that include Digital Society and Technology, Quality Health and Education for all, Decent Work and Social Mobility, Food and Energy Security, Building Climate Resilience and Competing in Global Markets.
The investment into Care Concierge fits the fundamental objective of Dana Impak, which is to invest in catalytic sectors to increase Malaysia's economic competitiveness and build national resilience.
Care Concierge meanwhile, helps families navigate the complexities of finding the right senior care solution for their loved ones across its various services of Home Care, Residence Care, Day Care and Shop Care. Founded by Chief Executive Officer (CEO), Martin Yap and Chief Operations Officer (COO), Justin Yap in 2017, Care Concierge's inception was inspired by Martin's family's struggle in finding assistance for the care of his grandmother who succumbed to a stroke. This led to the realisation of what Malaysia needs especially with its ageing population on the rise, and the younger generation that is career-centric.
Driven by technology, design thinking, and innovation, Care Concierge is also one of six winners of the Khazanah Impact and Innovation Challenge 2021 with the prize being a grant worth US$66,000 (RM300,000).
Care Concierge fits Dana Impak's three themes, the first being Quality Health and Education as it provides skills training and career opportunities for healthcare workers under its very own Care Concierge Academy. To date, Care Concierge has over 2,000 professional caregivers, nurses, occupational therapists and physiotherapists registered on its platform.
The second theme is Decent Work and Social Mobility, by matching its customers to professional caregivers, the company allows the provision of gig employment to individuals and subsequently supports the gig economy of Malaysia.
The final theme is Digital Society and Technology Hub. Care Concierge's core business solutions are managed by an in-house developed web and mobile application. This digital approach provides the convenience of selecting the type of service a customer requires which is then matched to the experience and expertise of its caregivers. The Care Concierge App is intended to deepen the human connection and experience between its clients and caregivers.
Gobi Partners Cofounder and Chairperson, Thomas Tsao said: "Gobi has a strong belief in Malaysia's entrepreneurial potential and world-class talent. As a firm headquartered in Kuala Lumpur, our early investments in more than 30 Malaysian startups have yielded success. We have thoroughly evaluated Care Concierge and are confident in their growth prospects for the Silver Economy."
Care Concierge Founder and CEO, Martin Yap said: "The funding from Gobi, under the auspices of Khazanah, is indeed timely as it augurs well with the ageing population challenges that the country is currently facing. We are committed to using this funding to create innovative and digital solutions that will revolutionise senior living care, including the Caregivers profession and make an impact in the lives of our ageing population."
According to a report by the United Nations, Malaysia is expected to become an ageing society by 2030, with more than 15% of the population aged 60 years and above. One of the key challenges associated with ageing is the provision of healthcare services to the elderly as they are more susceptible to chronic diseases and disabilities, which require specialised medical care.

About Gobi Partners
Gobi Partners is the most interconnected Pan-Asian venture capital firm with US$1.5 billion in assets under management (AUM). Headquartered in Kuala Lumpur and Hong Kong, the firm supports entrepreneurs from the early to growth stages and focuses on emerging and underserved markets.
Founded in 2002, Gobi has raised 15 funds to date, invested in over 350 startups and nurtured 10 unicorns. Gobi has grown to 15 locations across key markets in Bangkok, Beijing, Cairo, Guangzhou, Ho Chi Minh City, Hong Kong, Jakarta, Karachi, Kuala Lumpur, Lahore, Manila, Shanghai, Shenzhen, Singapore and Surabaya.
As a Participant of the United Nations Global Compact, Gobi Partners is committed to aligning strategies and operations with universal principles on human rights, labour, environment and anti-corruption to ensure long-term value creation and sustainability across our portfolio. The firm launched its inaugural Sustainability Report in June 2022.
About Khazanah Nasional Berhad
Khazanah Nasional Berhad (Khazanah) is the sovereign wealth fund of Malaysia entrusted to deliver sustainable value for Malaysians. In line with its long-term strategy of Advancing Malaysia, Khazanah aims to deliver its purpose by investing in catalytic sectors, creating value through active stewardship, increasing its global presence, as well as building capacity and vibrant communities for the benefit of Malaysians. For more information on Khazanah, visit www.khazanah.com.my.
About Care Concierge
Guided by years of expertise, and supported by technology, Care Concierge's purpose is to enrich the quality of life for the seniors and families within their community by providing solutions through technology, design thinking and innovation. Care Concierge takes pride in offering a wide range of quality senior living care solutions, curated to suit individual ageing preferences. This is to enable the seniors to maintain their independence and lead meaningful and purposeful lives.
Care Concierge Academy is also committed to investing in developing professionals and expertise for the Caregiver's profession to cater to the care of our ageing population. In collaboration with the government and higher learning institutions, Care Concierge Academy aims to support a healthy social and economic impact by providing the right and best care continuously for our seniors in generations to come.
Putting their people to the forefront and working as a team, Care Concierge's values of RESPECT for each other, being ACCOUNTABLE for their actions and decisions made, with INTEGRITY and empathy for others, guide them in their quest to make a difference for HUMANITY.