Gobi Partners and Ozora Yatrapaktaja Launch First US$10 Million Seed Fund for Women Startups in Indonesia
April 21, 2022
SURABAYA, INDONESIA (21 April 2022): Venture capital (VC) firms Gobi Partners and Ozora Yatrapaktaja are partnering together to launch a US$10 million seed fund for women start-ups in Indonesia, called the Ratu Nusa Fund.
Focusing on health tech, e-commerce/social commerce, future of work/education, prop tech, enterprise/SME tech and fintech, the Ratu Nusa Fund will be dedicated to supporting women-led seed-stage and pre-Series A companies in Indonesia.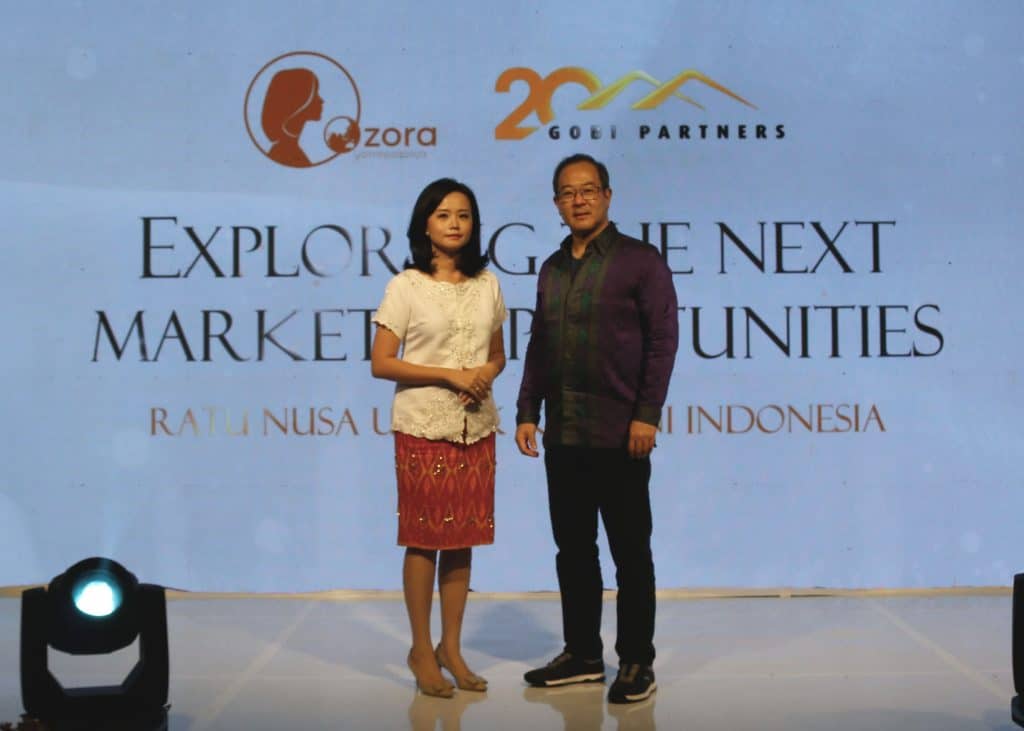 The Ratu Nusa Fund will also focus on companies that improve the livelihoods of women and girls across Indonesia; underserved companies that reside in emerging secondary and tertiary cities such as Surabaya, Bali, Denpasar, Nusantara and Medan; as well as companies that leverage technology to broaden access and have the potential to create enhanced efficiencies and scalability.
The launch of the Ratu Nusa Fund on 21 April honors Kartini Day – a significant celebration of the birthdate of Raden Ajeng Kartini. Kartini was hailed as a national hero and is a symbol of women's empowerment in Indonesia for promoting gender equality and women's rights to a better life and education.
"Women entrepreneurs have long gotten a small slice of the VC funding pie mainly due to entrenched gender biases, leaving untapped potential from half of the world's population. The Ratu Nusa Fund was designed to address this gap," said Gobi Co-Founder, Thomas Tsao.
"There's nowhere better to debut our first women-centric fund than in Indonesia where there are an estimated 30 million active women entrepreneurs who stand to benefit from a thriving startup ecosystem. We are also excited to partner with Ozora with its strong women-led management team and their deep-rooted networks here," he continued.
Ozora Founding Partner, Margaret Srijaya is looking forward to uncovering the next Indonesian startup 'treasure'.
"Ozora means strength from God and treasure, which reflects our goal as we are on a mission to identify local treasures in Indonesia and turn them into global gold. There is a large underserved and untapped opportunity in VC support for women entrepreneurs and women-impact businesses serving 133 million Indonesian women," said Srijaya.
"We are confident that the Ratu Nusa Fund will provide worthy women-led businesses the ability to scale its impact in this country and across neighboring markets within the Asia-Pacific region."
Ozora has deep local expertise in Indonesia and a strong network with businesses, governments, organizations, and communities globally. The firm is committed to empowering the next generation of entrepreneurs to achieve Vision of Indonesia 2045. Its founding partner, Srijaya, is also the founder of Womenpreneurs.id, an online community empowering women, self-improvement and entrepreneurship with over 300,000 followers since 2018. Srijaya also served as the Head of VC at BPP HIPMI Indonesia, Local President Junior Chamber International (JCI) East Java in 2017, Women Lead Compartment in Chamber of Commerce Surabaya.
Founded in 2002, pan-Asian VC firm Gobi Partners has US$1.5 billion in assets under management, where it supports entrepreneurs from the early to growth stages. The firm champions the underserved in emerging markets, empowering diverse leaders and gender equality. To date, Gobi has raised 15 funds across 13 locations and invested in over 310 startups (over 60 in ASEAN).
In line with its pledge to empower women, Gobi became a signatory to the United Nations Global Compact and Women's Empowerment Principles by UN Women in 2021. The firm has also hosted multiple gender-lens centric events and forums such as She Loves Tech, Karandaaz Pakistan's Women Ventures Programme, CodeGirls and co-founded the Asia Gender-Smart Investing Forum with UN Women.

About Gobi Partners
Gobi Partners is the most interconnected Pan-Asian venture capital firm with US$1.5 billion in assets under management (AUM) across North Asia, South Asia, and ASEAN. Headquartered in Kuala Lumpur and Hong Kong, the firm supports entrepreneurs from the early to growth stages and focuses on emerging and underserved markets.
Founded in 2002, Gobi has raised 15 funds to date, invested in over 310 startups and nurtured 9 unicorns. Gobi has grown to 13 locations across key markets in Bangkok, Beijing, Dubai, Ho Chi Minh City, Hong Kong, Jakarta, Karachi, Kuala Lumpur, Lahore, Manila, Riyadh, Shanghai, and Singapore.
As a Participant of the United Nations Global Compact, Gobi Partners is committed to aligning strategies and operations with universal principles on human rights, labor, environment and anti-corruption to ensure long-term value creation and sustainability across our portfolio.
About Ozora Yatrapaktaja
Ozora, which means "strength from God" and "treasure", reflects our goal as we are on a mission to identify local treasures in Indonesia and turn them into global gold. As treasure hunters, we are creative, adventurous, and resourceful souls. It takes one who has deep expertise of their locality to be able to find where each treasure lies. It also takes creativity and resourcefulness to achieve the end goal efficiently and proliferate it.
Our hunters are thorough and holistic. We don't only seek what business benefits us, but also which brings a more sustainable positive impact for both consumers and investors.
With 15 years' worth of experience in multiple industries, we are able to not only nurture but also utilize our tried and tested network of businesses, governments, organizations and global community.