Gobi-Core Philippine Fund Reveals the State of Talent in Tech 2022 Report
November 23, 2022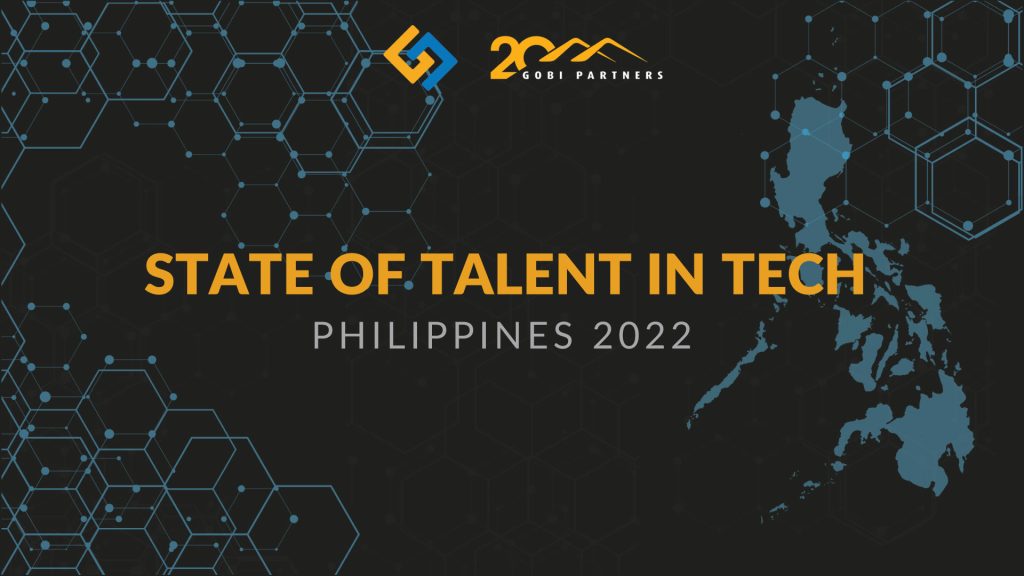 23 November 2022, Manila: While the Philippine tech ecosystem remains resilient amid global economic headwinds, the country's talent pool must grow in tandem to support the birth and growth of local startups, according to the Gobi-Core State of Talent in Tech 2022 report.
Released today by the Gobi-Core Philippine Fund, the report reveals the landscape of talent in the Philippine tech ecosystem, the challenges and opportunities present and expert insights from tech founders, leaders and ecosystem veterans.
The Gobi-Core Philippine fund is co-managed by Manila-based venture capital firm Core Capital which provides early-stage financing for local start-ups and Gobi Partners, the most interconnected Pan-Asian venture capital firm that invests in emerging and underserved markets across Asia.
"We will continue to see exponential growth in digital consumption as we move forward into a post-pandemic world. This will translate into escalating demand for new digital products and services, which will herald the emergence of new entrepreneur-led startups operating in emerging industries beyond the formidable 'Iron Triangle' of FinTech, E-Commerce and Logistics.
Even as today's macroeconomic environment shows signs of a slowdown, we foresee growing potential in the flow of venture capital into these new startups. However, their growth will be tempered by the lack of talent – the lifeblood of every startup ecosystem," said Gobi-Core General Partner and Gobi ASEAN Circular Economy Head Carlo Delantar.
Total electronic banking transaction value has seen a tenfold rise from pre-pandemic levels and is on track to exceed US$1.3 trillion in Financial Year 2022, while the Philippine internet economy is forecasted to grow by five times by 2030 from US$20 billion in 2022.
New startups have continued to emerge, with venture capital investments in non-corporate startups almost doubling 2021's US$279 million to reach US$503 million this year. The supply of talent, however, has not grown in proportion to meet rising demand, with the combined number of tech and engineering graduates in the Philippines remaining stagnant at around 150,000 to 180,000.
This proves problematic as younger, less-funded startups will lose out in the race for talent owing to high talent acquisition costs, which is why Carlo stressed that building a pipeline and developing the capabilities of local talent will thus be crucial in creating a thriving tech ecosystem.
He added, "The local talent pool has the potential to grow, especially with the digitally native Gen Z entering the workforce. We recommend adopting long-term, yet cost-efficient talent acquisition strategies, such as coding bootcamps, internship programmes and university competitions."
The Gobi-Core State of Talent in Tech 2022, which has been released a year after the Gobi-Core Philippine Startup Ecosystem Report 2021, demonstrates the strong development of the Philippine startup ecosystem over the past year and the need to develop a deeper local talent pool to sustain the ecosystem's growth.
"In venture capital, it takes a community to nurture a startup; it will take an ecosystem to help that startup grow wings," said Gobi Partners cofounder and chairman Thomas G. Tsao.
Among the key takeaways from the inaugural report released in 2021 which shed light on the Philippine's growing startup ecosystem in relation to its ASEAN peers, was the rise of the nascent Philippine tech ecosystem, owing to an increase in investments by local and foreign corporations, as well as angel investors.
This came alongside strong support from the government through initiatives such as the Innovative Startup Act, the Startup Grant Fund Programme, the Startup Venture Fund and the Startup Research Grant Programme among others.
It also strongly indicated the potential direction of the Philippine market being increasingly influenced by environmental and social impacts, such as sustainability and equality issues.
---
About Gobi-Core Philippine Fund
The Gobi-Core PH Fund is a joint-venture partnership between Gobi Partners and Core Capital. Through its first fund, Gobi-Core PH fund, it aims to invest in the next wave of entrepreneurs in the Philippines – for Filipinos, by Filipinos.
For more information about Gobi-Core Philippine Fund, please visit: corevc.ph
About Gobi Partners
Gobi Partners is the most interconnected Pan-Asian venture capital firm with US$1.5 billion in assets under management (AUM) across North Asia, South Asia and ASEAN. Headquartered in Kuala Lumpur and Hong Kong, the firm supports entrepreneurs from the early to growth stages and focuses on emerging and underserved markets.
Founded in 2002, Gobi has raised 15 funds to date, invested in over 320 startups and nurtured 9 unicorns. Gobi has grown to 15 locations across key markets in Bangkok, Beijing, Cairo, Guangzhou, Ho Chi Minh City, Hong Kong, Jakarta, Karachi, Kuala Lumpur, Lahore, Manila, Shanghai, Shenzhen, Singapore and Surabaya.
As a participant of the United Nations Global Compact, Gobi Partners is committed to aligning strategies and operations with universal principles on human rights, labour, environment and anti-corruption to ensure long-term value creation and sustainability across our portfolio.