Deliveree Raises US$70 million Series C To Digitize Logistics In SEA
June 27, 2022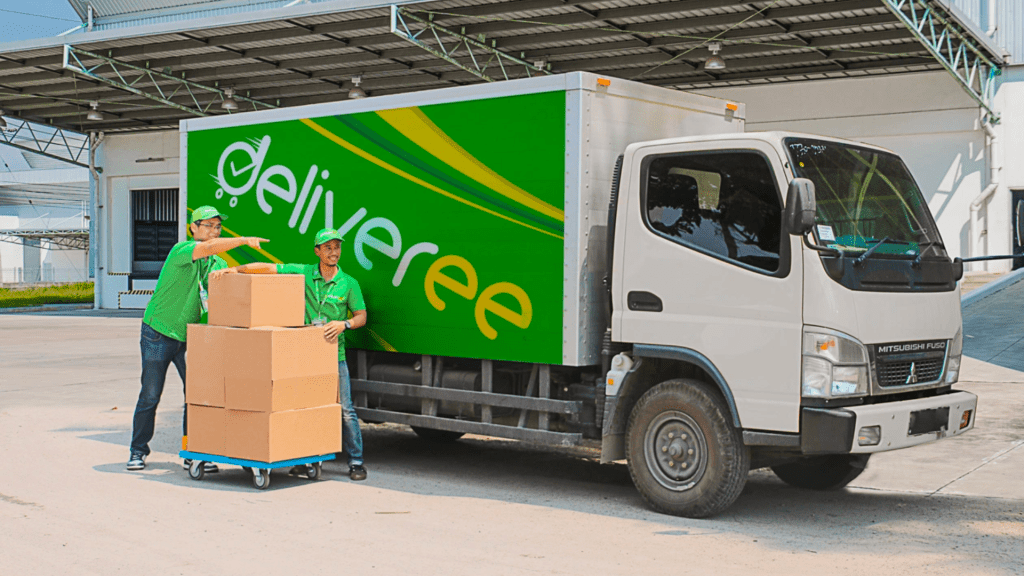 Deliveree is pleased to announce the closing of its USD 70 million Series C funding round led by Gobi Partners and SPIL Ventures with participation from existing investor Inspire Ventures. This brings total funds raised to USD 109 million over the past 5 years.
The proceeds from Deliveree's Series C will be used to advance our market sector penetration, expand our services offered with the addition of containerized cargo solutions, and build the massive scale needed to become Southeast Asia's ubiquitous logistics marketplace. In addition, proceeds will go toward enhancing support to the tens of thousands of businesses who rely daily on Deliveree.
"At Deliveree, our mission is to digitize logistics by making cargo transportation simple, affordable, flexible, and scalable for businesses of all sizes. We do this with our powerful marketplace platform that brings together buyers of logistics services with a massive network of carriers and service providers – I call this our logistics mega marketplace." – Tom Kim, Co-Founder & CEO of Deliveree
Along with our new funding and the support of these incredible partners, Deliveree will accelerate the realization of its goal to become the Southeast Asian central marketplace for logistics on a massive scale.
"Post-pandemic, we are moving into an inflationary environment plagued by supply chain issues. Deliveree has built the best tech platform that is well-tested by marquee customers and this will enable them to optimize and lower total cost of operations for the logistics and shipping industry." – Kay Mok, Managing Partner of Gobi Partners
This is a pivotal time for logistics in Southeast Asia with the accelerating adoption of tech platforms transforming the once lagging trucking and logistics industry that has been barely touched by technology disruption. "With our strategic investment in Deliveree, we are able to provide them with strong supply chain operational capabilities which are the FIRST of its kind by aligning land and sea modes of transport. This will enable Deliveree's tech platform to offer broader logistics solutions that extend beyond inland trucking with an inter-island reach that is strategically supported by the SPIL network of container ships servicing all major ports in Indonesia." – Widarta Liunanda, SPIL Ventures
Jakarta, Karachi, Kuala Lumpur, In the last 24 months, Deliveree has grown its gross transaction value by 3.2x and will exceed USD 100 million this year, we've expanded our team to nearly 500 employees across four countries, and we've made Deliveree a top 5 cargo carrier in Indonesia, Philippines, and Thailand alongside the most established and respected names in logistics. Furthermore, the businesses who rely on Deliveree to power their day-to-day cargo shipments and deliveries have reached over 25,000. This robust growth demonstrates the strength of Deliveree's business model and paints an exciting picture of the future of logistics technology in Southeast Asia.
A sincere thank you goes out to our customers who have trusted Deliveree to power their trucking and delivery channels, our world-class team for their obsession in making our customers successful, and our investors for their support and belief in our mission.
---
About Deliveree
Deliveree is a logistics technology company operating its massive trucking and cargo marketplace in Indonesia, Thailand, and the Philippines (in the Philippines, Deliveree operates under the brand name Transportify). Powered by its popular mobile apps on Android and iOS and its enterprise web application for businesses, Deliveree's "logistics supermarket" enables customers of all sizes to access affordable, flexible, and scalable trucking and cargo shipping solutions in a manner that substantially increases efficiency and lowers cost.
Furthermore, Deliveree provides substantial work, income, support, and logistics training to nearly 100,000 independent drivers and trucking companies across Southeast Asia.
About Gobi Partners
Gobi Partners is the most interconnected Pan-Asian venture capital firm with US$1.5 billion in assets under management (AUM) across North Asia, South Asia, and ASEAN. Headquartered in Kuala Lumpur and Hong Kong, the firm supports entrepreneurs from the early to growth stages and focuses on emerging and underserved markets. Founded in 2002, Gobi has raised 15 funds to date, invested in over 320 startups and nurtured 9 unicorns. Gobi has grown to 15 locations across key markets in Bangkok, Beijing, Guangzhou, Ho Chi Minh City, Hong Kong, Lahore, Manila, Riyadh, Shanghai, Shenzhen, Singapore and Surabaya.
As a Participant of the United Nations Global Compact, Gobi Partners is committed to aligning strategies and operations with universal principles on human rights, labour, environment and anti-corruption to ensure long-term value creation and sustainability across our portfolio.
About SPIL Ventures
SPIL Ventures is the CVC arm of Salam Pacific Indonesia Lines (SPIL) which focusses on unlocking potential and accelerating success.
We invest and accelerate the progress of promising venture projects to realise smart and efficient growth across Indonesia. We empower bright sparks through innovation and technology.
SPIL Ventures aims to create solutions and sustainable growth across industries by investing in leading digital tech logistics ecosystems.
About Salam Pacific Indonesia Lines
Salam Pacific Indonesia Lines (SPIL) is the prominent container liner in Indonesia. Along with an advanced digital drive which is strongly upheld by the motto 'SPIL Connecting Islands', SPIL strategically services 40 ports located across the Indonesian archipelago.
Currently, SPIL's mission is to integrate and provide comprehensive logistics solutions by enhancing land transport capability, warehousing and consistently advancing its digital advantages.