COLABS Raises US$3 Million Seed to Empower Entrepreneurs and Freelancers Through Its Spaces and Tech Platform Across Pakistan
March 25, 2022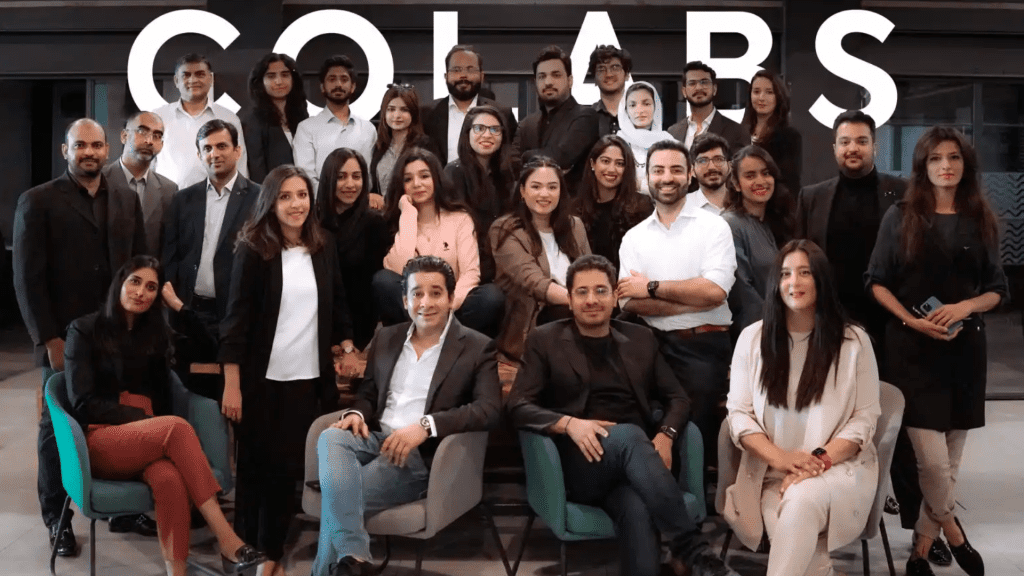 LAHORE, PAKISTAN (25 March 2022): COLABS, the Lahore-based startup that enables SMEs, entrepreneurs and freelancers to build and grow their businesses through its spaces and tech platform, has raised US$3 million in a seed round.
The round was led by Indus Valley Capital, Zayn Capital and Fatima Gobi Ventures. It is the first time these three leading Pakistan focused venture capitals (VCs) are investing together in a startup. The round was also joined by Shorooq Partners, Kinnow Capital, Muir Capital, Sai Ventures, and some key angels, including Turner Novak, William Hockey, and Teddy Himler.
COLABS was founded in 2019 by Omar Shah, a former private equity investor, and his twin brother Ali Shah, who operates long-established family-run real estate and construction firm SABCON, which is COLABS' development partner for its facilities. Its leadership team also includes Fatima Mazhar (COO) who was one of the early executives at Careem and had helped the company scale in many international markets.
COLABS started as a coworking platform with a state-of-the-art facility in Lahore but has since evolved to offer several additional services and tools to entrepreneurs and freelancers, including educational bootcamps and a SaaS platform for back-office solutions such as business incorporation, talent sourcing and management, payroll processing and legal and tax compliance.
Omar Shah, co-founder, and CEO of COLABS said: "We had founded COLABS to help accelerate the Pakistani startup ecosystem and we're very proud of what we have achieved in a little over three years. Even though we're mainly seen as a coworking operator, what we have built is a solid foundation to make it easy for freelancers, startups, and even international companies entering Pakistan, start and manage their businesses. Today anyone looking to start a company in Pakistan could use COLABS not only as a place where they work but also as a partner that manages their different back-office functions."
"With the capital we have raised from leading investors today, we're now looking to turn our offerings into software-based solutions and productized services that could also be extended to people and institutions outside of our network, in addition to bringing on world-class talent to our existing team of rockstars," he added.
Today, COLABS has a partner network of 100+ organizations involved in taking initiatives to boost the Pakistani startup ecosystem's growth. COLABS has placed itself at the heart of the startup agenda in Pakistan through its events, networking forums and startup facilitations. One of the many ways COLABS creates impact is by hosting 250+ startup community-relevant events annually with an aggregate attendance of over 200,000 significant visitors to date. The facility has seen community members grow, hire the right talent, raise investment and thrive with the support provided by COLABS.
Aatif Awan, Founder and Managing Partner of Indus Valley Capital, said: "The first time I visited COLABS, I found the community and energy to be a microcosm of the fast-growing Pakistani tech ecosystem. We're thrilled to partner with the COLABS team to help them build the leading platform and community that will power the growth of Pakistani tech across startups, freelancers and global companies expanding into Pakistan."
Faisal Aftab, Co-Founder and Managing Partner of Zayn Capital, said: "I have closely watched COLABS grow into one of the key players in Pakistan's startup ecosystem. We were fortunate enough to have met some of the startup we invested in, at their spaces. Omar and his team continue to do excellent work to accelerate the growth of the startup ecosystem here and we are excited to join their journey in serving tens of thousands of founders and freelancers across Pakistan."
Ali Mukhtar, Founder and General Partner of Fatima Gobi Ventures, said: "We're excited to join Omar and his team as they embark on their next expansion journey. COLABS has become the epicentre of growth of the start-up community in Pakistan and we look forward to supporting them on their path to empower the next generation of founders across the country."
With this investment, COLABS aims to knit together a community of 100,000 entrepreneurs and freelancers in Pakistan, starting with 10,000 members within the next two years. This ambition will be realized through the national expansion across major cities in Pakistan like Karachi and Islamabad. The strong foundation built over the last two years will enable COLABS to reach its envisioned goal.
---
About COLABS:
COLABS is Pakistan's fastest growing flexible workspace, thoughtfully designed to enable people and businesses to grow. We aim to inspire collaboration, productivity and innovation through our community and network. Our vision is to redefine the future of work in Pakistan.
The COLABS community today has 1200+ members and over 100 companies across multiple facilities in Pakistan. Our community is a mix of freelancers, startups, SMEs and MNCs. COLABS today has a network of 100+ ecosystem partners across universities, VC funds, corporates, government and industry leaders.
COLABS enables local and international companies to enter, startup and accelerate growth in the Pakistani market fostering a diverse and interconnected ecosystem through our entrepreneurial initiative, COGROW. With this platform, we have hosted over 250 events and 200,000+ visitors since inception to support the Pakistani ecosystem.
Additionally, we offer back-office support, COLABS Business Solutions is focused on our SaaS-based business services platform to cater to all back-office needs such as payroll processing, attendance management, legal services etc. for growing startups and international companies entering Pakistan.
COLABS is constantly innovating, creating new work experiences, and redefining the future of work in Pakistan. Our mission is to knit together a community of 100,000 entrepreneurs across Pakistan
For more information, please visit www.colabs.pk
About Investors
Indus Valley Capital
Founded in 2019, Indus Valley Capital is a venture capital firm based in Karachi, Pakistan. Indus Valley Capital is an early-stage VC fund focused on Pakistani startups that are transforming entire industries. It was founded and managed by Aatif Awan, a former LinkedIn Executive who acted as a VP of growth, spending seven years at the company and growing it to half a billion members.
Indus Valley Capital has made 12 investments as of yet, 8 of them being lead investments for startups like Bazaar tech, Aimfit, Marham, Maqsad and BridgeLinx. Having built products and scaled them to hundreds of millions of users helps early-stage startups do the same.
For more information, please visit www.indus.vc
Zayn Capital
Zayn Capital is an investment firm providing debt and equity financing to start-ups in Pakistan with occasional opportunistic bets in the region. It was founded by Faisal Aftab and Faisal Chowdhry who both serve as managing partners of the Venture Capital firm. Zayn Capital has made 20 investments with lead investments in Nayapay, Bagallery, Krave Mart and Bookme.pk among others.
Their team is made up of seasoned executives, investors, founders, and operators who partner and support startups in Pakistan.
For more information, please visit https://www.zayn.capital/
Fatima Gobi Ventures
By bringing together one of the largest conglomerates in Pakistan, Fatima Group and one of the most active multinational VCs in Asia, Gobi Partners, Fatima Gobi Ventures (FGV) fuses local expertise with regional VC know-how.
FGV takes a data-driven approach to investing, backed by decades of venture experience in the flourishing entrepreneurial ecosystems of Northeast and Southeast Asia. The firm finds companies locally that have the edge and drive to go beyond Pakistan's borders. FGV also accelerates the growth of founders by benchmarking their businesses and linking them to the developed markets in Asia.
For more information, please visit www.fatimagobi.vc