Celebrating the Women of Gobi: An interview with Travelio Co-founder and Chief Strategy Officer, Christina Suriadjaja
March 16, 2023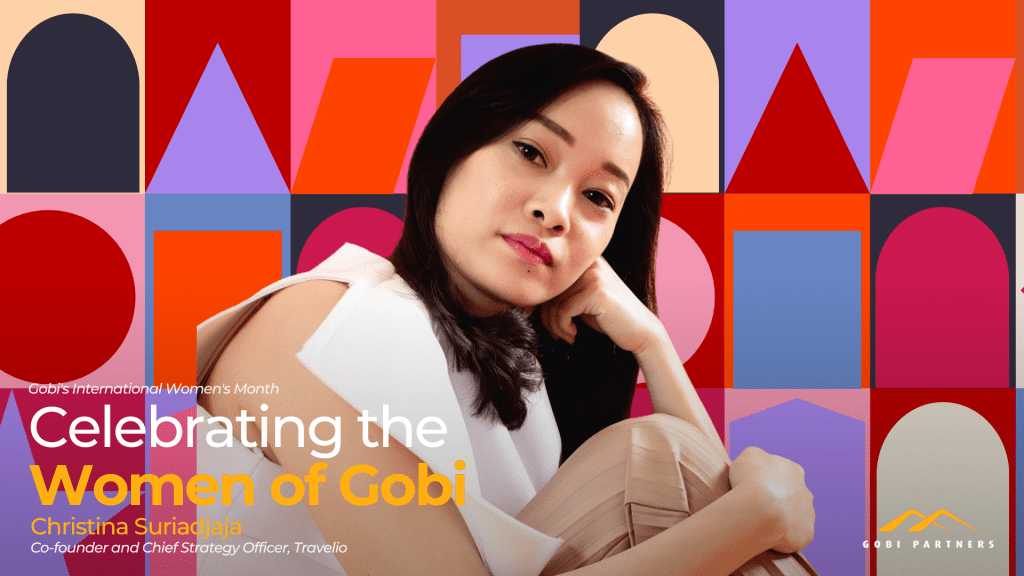 As a participant of the United Nations Global Compact, and with this year's International Women's Day theme DigitALL: Innovation and Technology for Gender Equality, Gobi Partners' initiative to support the growth of women in digital innovation and technology is showcased through its successful women-founded portfolios.
We spoke to Travelio Cofounder and Chief Strategy Officer, Christina Suriadjaja on what started her off in her journey towards being a successful entrepreneur in business and technology, and the challenges she had faced along the way.
"I owe it to the corporate world for making me an entrepreneur. Working for InterContinental Hotels Group in Singapore, I felt the rigidity of work was hindering my sense of creativity and I wanted to do more than was true to myself, my potential and values."
"So after a year, I decided to venture into something on my own and ultimately be my own boss – set and work on my own targets, and drive towards achieving them the way I feel best. I didn't regret my time in the corporate world as it did teach me a lot about structure, standard operating procedures, targets and action plans which I implemented in my team until today."
Christina co-founded Travelio in 2015, which has grown to become the leading online residential real estate management start-up which allows tenants to rent apartments and other residential real estate properties in Indonesia. It is the only online-transactional platform for rentals in Indonesia and the only one that allows tenants to pick their rental length from short to long-term. A bulk of these transactions are from monthly and yearly rentals.
The platform attracts 98% local tenants with a majority of millennials as their customer demographic. To date, Travelio has more than 12,000 properties exclusively managed by the firm, which makes them the largest player in Southeast Asia by unit and key count.
Since its inception, Travelio has raised over US$22 million (RM99.4 million) in funding from Seed to Series B rounds, and will soon announce the closing of its Series C round. The size of their team is made up of 700 members from all over Indonesia.
"Being a young woman, pitching to raise funds would have made me face a lot of hurdles but I did not encounter gender-related challenges that got in the way in this region," she said when asked about fundraising challenges as a woman.
"Indonesia is a really open nation for women entrepreneurs and even in Singapore which was where I spent most of my time with fundraising, gender was not an issue at all. Malaysia too was relatively supportive of women entrepreneurs and this is translated through Gobi's support of Travelio. Their family-like relationship proves that they are in it for the long run. They are great listeners and this makes it easy for anyone to bounce off ideas with them and to gain their support."
Being a company that was founded before the pandemic, Travelio had its fair share of business challenges but it continued to grow and thrive despite them by being adaptable and using technology to fuel its growth.
"The key learning for me as a founder is to be ready to be adaptable to the changes from every stage or cycle of the company. My adaptability was of prime importance to staying in the game."
"I also believe innovation and technology have helped women entrepreneurs around the world in various ways such as providing the confidence and tools that connect forward-thinking individuals as well as easing information accessibility, enabling us to keep improving. I'm excited to see what the future holds as the world becomes more aware of each individual's potential regardless of their gender."
Christina has won several awards for her notable work, which includes the EY Next Gen Award at the 2017 World Entrepreneur of the Year event, and in the same year, she was named one of Forbes' 30 Under 30 in Asia. Christina has a B.S. from the University of Southern California Marshall School of Business and an M.M.H from Cornell University's Hotel School. She believes that in any business, having a heart for the people who shape it is the central tenet towards success.
"My advice to aspiring entrepreneurs would be – if you don't have the grit or tenacity or enough care for people, then don't start a company. If the aim to be an entrepreneur is to just make a name for yourself and a quick buck, then you need to re-evaluate your reasons."
" As an entrepreneur, we need to put our heart and soul into nurturing the people who help us along our business growth and no matter what scale your business is, small, medium or big, we all need to consider the people we have by our side, and those who work for us and entrust their well-being when we embark on this quest."
Travelio is a Gobi investee company through the Superseed Fund as well as an up round through the Meranti ASEAN Growth Fund.