International Women's Day: Cindy Zhang on Diversity and Inclusion in Finance and Technology
March 9, 2023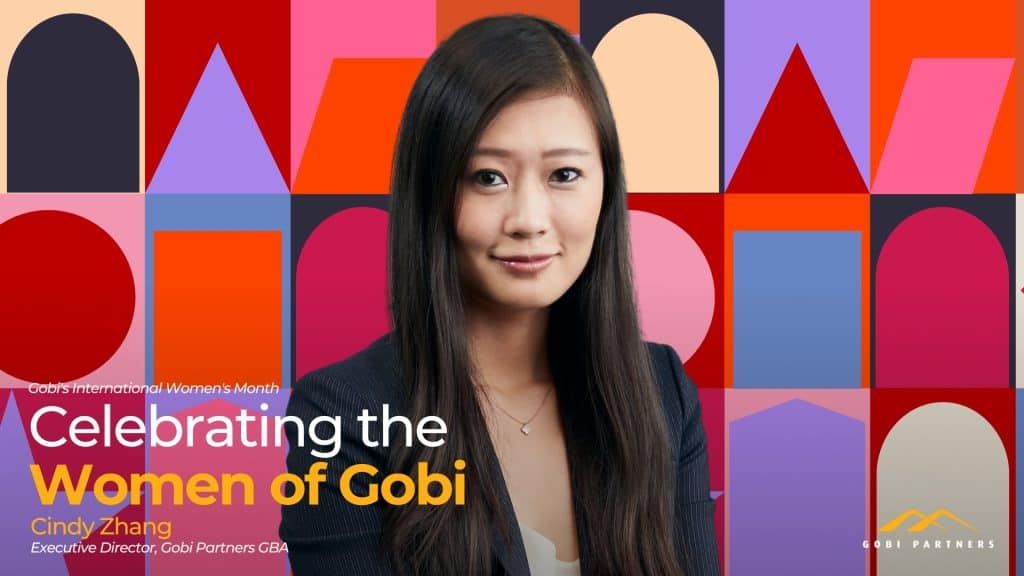 My journey to venture capital (VC) and Gobi was quite serendipitous. I first moved to Hong Kong after working at a boutique investment bank in New York, and at the time I was working on a passion project of my own. It was a direct-to-consumer jewellery e-commerce company, and about nine months into working on that, I realized it wasn't what I wanted to do for the next 5-10 years. I have immense respect for entrepreneurs and entrepreneurship, but it didn't feel like the right path for me. At the time, with almost eight years of work experience, I already figured out that working for another bank or large corporation was not for me either, so I was exploring working at a blossoming startup.
I attended the Asia Technology Entrepreneurship Conference (ATEC) in 2019, where I networked with a lot of founders, and I met Chibo Tang (Managing Partner of Gobi Partners GBA), who was on the judging panel. I managed to sit down for a coffee with Chibo, and I expressed to him that I was figuring out the next steps for my career. He kindly offered me an internship at Gobi which I am very grateful for, because as it turns out without going through the experience of this internship I wouldn't have known if I wanted to be in VC. Fast forward three years to the present, I am still deeply passionate about the work we do here.
On Diversity and Inclusion in Finance and Technology
Needless to say, we do need more diversity in thought in technology and finance. The ratio of women going into or staying in these industries is not 50-50 for a variety of reasons. We cannot ignore that there are many nuances in our society contributing to the uneven gender ratio in entrepreneurship either. Coming out of the pandemic, we can see that many tech firms have adapted to flexible working, which is a more supportive model of working for many demographics, including working moms. We still have a lot more to do to create sustainable and inclusive workplaces, but I feel this has been a great step towards the right direction.
That said, I am still pleased to see the increasing amount of resources that are now available for aspiring female founders and engineers, with just as many examples of women taking great strides to move the needle in diversity in innovation. Cindy Chow (Executive Director of Alibaba Hong Kong Entrepreneurs Fund [AEF]) for example, her involvement in the startup ecosystem has given women considering this career path an inspiring role model to look up to. Other role models such as Michelle Obama, Sheryl Sandberg, and more, are active in encouraging women and setting an example to use their voices and not shy away from their aspirations. It is particularly important to instill confidence in women as they are less likely to present themselves boldly and end up taking a back seat. I strongly encourage women to share with the world about what they are spending time learning and building because it is worth being shared and heard.
At Gobi, as a platform we actively try to invest in female founders and give them a fair chance because we know that with only 2% of the billions of dollars being invested into startups being allocated to women-founded businesses, the prevailing bias and overlooked opportunity of what female founders can bring into innovation persists.
While it is still merit-based, we make an active effort to seek and support women entrepreneurs. Previously, we hosted the Asia Gender-Smart Investing Forum co-organized with UN Women, a two-day forum that convened 34 thought leaders as speakers. This month, we are excited to continue the series with an in-depth workshop certifying the engagement of entrepreneurs and investors learning best practices to advance women's economic empowerment and women in leadership roles in Asia.
We are also lucky to be surrounded by many male allies in the ecosystem and our team, and to have their full support when we want to launch women's initiatives or events. Female empowerment takes everyone coming together in support to truly create change and balance.
On Handling Fear and Doubt, and Persevering as a Female Entrepreneur
The way I see it, a good sign that you're on the right track is if you're excited and a little nervous at the same time. If you are too comfortable, you likely have room to push yourself a bit more. Fear can be a wonderful indicator that you are challenging yourself and growing, and it makes you more human and relatable because you are never alone in it.
I also think it's important for women entrepreneurs to tap into their feminine strengths. We do not need to try to be more masculine or search for male qualities that are deemed admirable in society in order to appear more competitive. Your feminine traits could be your competitive edge. It's important to be the best version of exactly who you are, embrace fear, new experiences, and lean on loved ones when you need to. We can get caught up and forget that entrepreneurship is a marathon; there is no need to sprint and burn yourself out. Take care of your mind and body, both physically, and spiritually. Embrace and enjoy the journey, even if it's during the seasons of low tide, and use those seasons to recalibrate.
Finally, I encourage female entrepreneurs to figure out your "why".
Once you know exactly what it is and can find a way to communicate why you are so passionate about what you're doing to spend your peak career years and your life building, it will be contagious. Whether it's a new platform, or a new kind of vaccine, believing in yourself is where it all starts. You are your best cheerleader and best friend. We are always open to meeting aspiring female founders, and we encourage you to reach out to our team on linkedin or get in touch with us through email. We look forward to hearing about your ideas and your "why".